If this featured image were up to date, it would have the tip of the scythe painted red with the blood of the dead.
SPOILERS (and NSFW language) AHEAD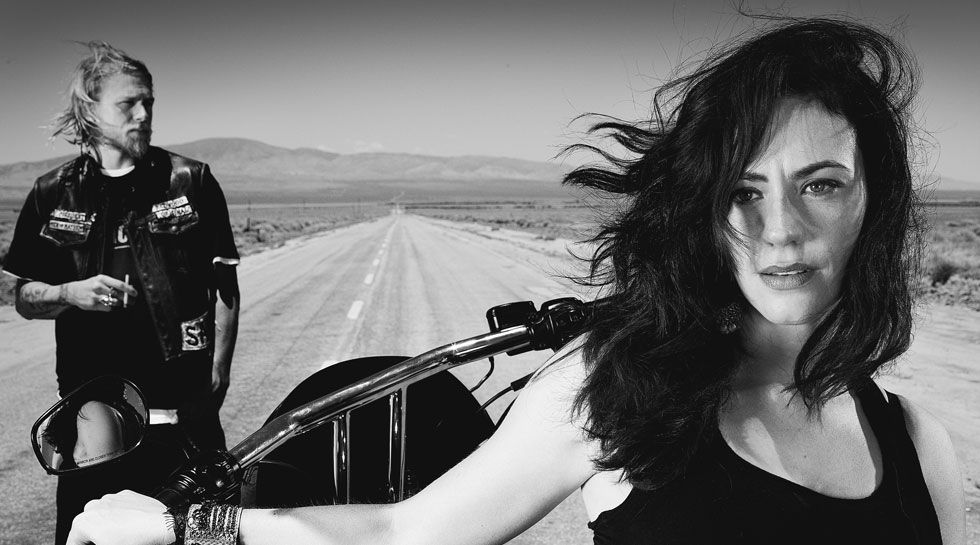 Then the logo would match the streets and floors and sinks of fictional Charming, California. In last night's season 6 finale of Sons of Anarchy.  We knew there would be blood.
We just didn't know (for sure) whose.  The one-niners? Yeah.  We kinda saw executing the delivery boys as a constant theme this season, starting with fat Phil, up to last weeks assassination of the Irish and Triad crews.
We also knew that the regulars were subject to spontaneous gory deaths, or seemingly imminent deaths* since the outset.
*SOA Rule 1 –  a character is not dead until you see them on the ground dead.
This week, it was two of the mostly good people, Tara and Eli the cop.  Tara was particularly gruesome – drowned in dishwater and stabbed with a turkey fork.  By whom?  Who else?  The character played by the show runner's off-screen wife, that Gemma?  Gemma, the strung out biker whore trying to rule the world and reacting bad when people tire of her bullshit?  That Gemma? Eli got shot by Juice when he tried to call it in.  Wait, what?
WTF, Wayne?  Gemma is wasted, and you speculate to her that the one person she hates the most this week must have made a deal with John Law (Jax did, not her).
WTF, everyone who knew the deal?  You can't give Wayne the update via a cell phone?
WTF Wayne?  Keys on the table like you live there?
We knew as soon was Wayne told the psycho bitch the half truth, while we knew the real story, that the shitstorm was imminent.
We knew that Gemma's judgment had come when we saw Wayne's stolen truck at Tara's.
WTF Eli?  You only start hearing the murder after Juice shows up and tells you Gemma, not Wayne, is there?
WTF, Juice?  Are you really so disloyal you shoot the cop and clean up for Gemma, rather than (at least) shoot that stupid bitch (too), (or) let her get hauled off, being caught literally red-handed?
WTF? Juice?  Are you trying to frame Jax? Or is this some warped loyalty play? Save him from being a suspect by destroying the evidence?  Can't save Tara, so save Gemma for Jax to eviscerate?
Jax, i think, will be OK, at least about being at the murder scene. Alibi witnesses. Not fleeing.  No murder weapon  Maybe a felon in possession charge for the gun on the floor.  We already ran the crooked cop/planted evidence story arc, so the gun on the floor is and should stay clean.  Likewise, forensics should clear Jax.
But that [ed.: FINALLY!] brings us to the point.  The biker gang premise is just a construct on which to drape mayhem.  Constant "how can this possibly get more fucked up" mindfuckingly escalated mayhem – THAT is what this show is really about.  It's not Macbeth on Harleys.  It's not the flip side of The Shield. It's FUBAR porn.  
SOA has only has 13 more chances to makes us scream "Jesus Fucking Shitstain Cunt" at that stupid bitch Gemma.
And, like military missions, the TSA and regular porn, there is mission creep afoot.  We go to places we never intended, because it was right there, in easy reach.  Or, like porn, the old stuff just stopped piqueing our imaginations.  The gangland arcs?  just shoot everybody present.  That will fuck things up enough to provoke some individual horrors to savor.  Tig's daughter's BBQ/ Opie baseball?  Good enough for last year:  how do we top it?  This year was a slow burn leading to the penultimate senseless murder.  Fear, then betrayal, then forgiveness, then resolution, then the whore/battle axe comes unhinged again and fucks up everyone's life.  Absolutely everyone's.
Tara was lucky.  She's been yanked (shanked?) out of the maelstrom.  Viewers?  We can at least take solace in knowing the lunacy that is SOA has only has 13 more chances to makes us scream "Jesus Fucking Shitstain Cunt" at that stupid bitch Gemma.  Nepotism demands that the one catalyst for this constant crescendo of gratuitous insanity has to make it until the show's end to meet her own.